Few would argue that President Trump engages in what could be described colloquially as "rhetorical hyperbole" when logged on to his Twitter account.   But a recent court finding that dismissed a defamation suit filed against Trump by porn star Stormy Daniels, on the grounds that a tweet by the president could legally be described in those terms, rather than as potentially factual statements—defamation cases require that a statement be factually false—could have a significant effect on how libel law applies to social media going forward.
Daniels, whose real name is Stephanie Clifford, alleges that she and her daughter were threatened on the street in Las Vegas for agreeing to participate in an In Touch magazine article about her past relationship with the president. "Leave Trump alone. Forget the story," she was allegedly told in May 2011.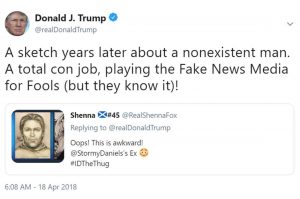 After Trump's election, Daniels commissioned a sketch artist to create a rendering of the person who had threatened her, and she released the sketch publicly on April 17, 2017.  On the next day, a tweet from @RealDonaldTrump read, "A sketch years later about a nonexistent man. A total con job, playing the Fake News Media for fools (but they know it)!"
Daniels filed a complaint on April 30 for defamation on the grounds that Trump was accusing her of inventing the story about the threat and falsely accusing someone of committing a crime against her, and in so doing painting her as "a liar, someone who should not be trusted, that her claims about the threatening encounter are false, and that she was falsely accusing the individual depicted in the sketch of committing a crime, where no crime had been committed."
On August 27, Trump filed a motion to dismiss the complaint pursuant to court precedent and anti-SLAPP statutes, arguing that the tweet was a non-actionable opinion. The court agreed that the tweet was, indeed, "rhetorical hyperbole" and thus protected by the First Amendment. The court further said that anti-SLAPP legislation aims to "encourage and safeguard the constitutional rights of persons to petition, speak freely, associate freely … and at the same time, protect the rights of a person to file meritorious lawsuits for a demonstrable injury."
Finally, the court noted that the U.S. Supreme Court has held that a published statement that could be described as "pointed, exaggerated, and heavily laden with emotional rhetoric and moral outrage" cannot be ruled as defamatory. Thus the Central District of California found that the tweet in question was an exercise of the president's right of free speech.
What effects this will have on defamation suits going forward is uncertain, but it does appear to open up an avenue for treating cases related to social media differently than such cases traditionally have been handled vis-à-vis the "legacy" media.
In assessing Clifford's case, the court clearly considered how people today weigh accusations on social media. Although the "rhetorical hyperbole" exception has been made in the past, it hasn't generally been taken to apply to such specific accusations. But the rolling waves of social media commentary, which cascades across an endless sea of writers and platforms, could be resulting in a broader scope of what is categorized as opinion.
While this could result in more liberal freedom to speak, it could also create a greater opportunity for the spread of misinformation, disinformation and reckless talk of various kinds, at a time when social media is becoming a primary source of information for many people.