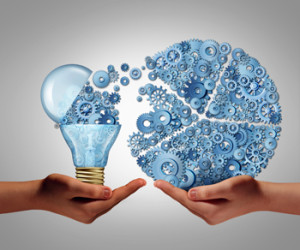 Small investors in Illinois will soon be able to invest in start-up businesses in exchange for a piece of the action, but without some of the onerous oversight previously required by regulatory agencies. Signed by Governor Rauner in July, 2015 the Equity Crowdfunding Act (HB 3429) is a game changing piece of legislation that leverages the crowdfunding platform to the benefit of small investors and companies. Waiving many of the regulations that govern  traditional securities markets, Illinois' intrastate crowdfunding law authorizes non-accredited investors (also known as "the little guys) to acquire equity in small business without all the red tape.
The law allows individuals with a net worth under $1,000,000 and annual incomes under $200,000 to contribute up to $5,000 per company in any given year. Creative business types will have access to capital that might been unavailable previously, broadening the choice of funding sources beyond the often burdensome small business loans offered by banks.
The law will also allow founders of startups to maintain tighter ownership control of their enterprise. Typically, venture capitalists who invest in new companies demand excessively large chunks of the business in return for their capital infusion. The Act opens doors to a broader lender base while creating the potential for a more even distribution of profits. In general the legislation should improve liquidity across the board.