lllinois' Medical Marijuana Program Act goes into full effect on January 1, 2015.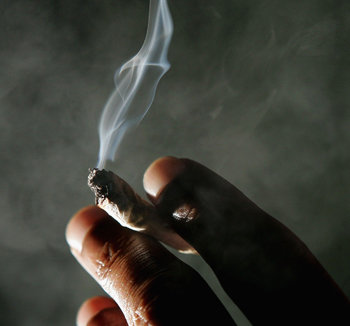 It may not be the top item on your "things to deal with in the New Year" list, but if you are a small business owner or corporate manager Illinois' new Compassionate Use of Medical Cannabis Pilot Program Act may turn out to be an unwelcome part of your professional life.  Originally passed in 2013, 410 ILCS 130 was partially rolled out Jan 1, 2014 but will become fully functional when the clock strikes midnight December 31.  Interestingly, the Act is scheduled to be repealed in 2018, probably about the time the kinks have been worked out in terms of real world implementation.
Far short of legalizing marijuana, these statutes authorize a four year pilot program allowing the distribution of cannabis for medical use under rigidly proscribed circumstances. The Act provides for legal treatment of pain and suffering for specific debilitating afflictions, including cancer, multiple sclerosis, and HIV/AIDS, hepatitis C, Crohn's disease, arthritis, lupus and residual limb pain. Medical cannabis can only be prescribed by a doctor of medicine or osteopathy licensed under Medical Practice Act of 1987 and the issuer is required to have a controlled substances license under Article III of the Illinois Controlled Substances Act. There are also numerous provisions regulating the cultivation and distribution of this new ancient pain remedy.
---
CNN Chief Medical Correspondent Dr. Sanjay Gupta has changed his mind about legalizing marijuana. Read what he has to say here.
---
Unintended Consequences: So far so good, but as is the case with other well intended legislation, the Act is likely to create unintended consequences when it is applied in the real world workplace.  No doubt about it, the Act has the potential to complicate a company's options for disciplining employees who are stoned at work. That's because some components of the statutes could conflict with each other when applied in the complex world of human behavior. These same components could also compromise corporate compliance with the provisions of other laws.
While on the one hand the Act prohibits discrimination against workers who are using prescribed marijuana for medical reasons, it also affirms a company's right to enforce zero tolerance policies and assure a safe workplace. Furthermore, nothing in the Act relieves any employer from its obligations under the Occupational Safety and Health Act of 1970 to provide all employees with a workplace that is free of recognized hazards. From a safety and liability point of view, how does an employer determine when a worker is failing to perform their job or creating a safety hazard in the workplace? How does a manager determine whether they are dealing with a patient or a drug abuser? Given the vicissitudes of human nature, any given employee could qualify as either.
Marijuana's ambiguous position in the moral universe will make this scenario even more complex. Although the substance was not federally criminalized until 1937, "pot" has been for these past many decades associated with counter-culture, slackers and hippie types. Even as Illinois and many other states move toward legalization, it should be recognized that marijuana remains illegal under the federal Controlled Substances Act, 21 U.S.C. §§ 801–971.
In spite of loosening enforcement in most jurisdictions, the casual recreational consumption of marijuana to some degree still brands the user a stoner, hophead or dope addict, whereas social use of beer, wine and liquor usually carries no such stigma. Testing positive for marijuana on the job is still a good way to get fired.
Now that the formerly evil weed has become a medicine, some painful attitude adjustments may lie ahead. Understanding this, the framers of 410 ILCS 130 made sure to get out ahead of the conversation by providing documentation of cannabis' medicinal bona fides right there in the introductory passage (410 ILCS 130/5).
    "The recorded use of cannabis as a medicine goes back nearly 5,000 years". Modern medical research has confirmed the beneficial uses of cannabis in treating or alleviating the pain, nausea, and other symptoms associated with a variety of debilitating medical conditions, including cancer, multiple sclerosis, and HIV/AIDS, as found by the National Academy of Sciences' Institute of Medicine in March 1999."
Nevertheless, there is no direct relationship between cannabis' sudden benign medical application and the possibly serious consequences of employing impaired workers. In principle, this HR challenge already existed: if a worker tests positive for recent THC/marijuana use, there is currently no inexpensive, scientific technology that can tell us whether a worker is sober or impaired. The only effective preventative measure was random testing. If the employee tested positive, they could be terminated.
Beginning January 1, however, if a worker is a cardholder under the Act, their marijuana use is legal and they are transformed by the law from stoner to patient.  The Act [410 ILCS 130/50(f)] provides guidelines for determining whether or not a worker is impaired, but these guidelines are not quantified:
"A finding of impairment is justifiable if a person "manifests specific, articulable symptoms while working that decrease or lessen his or her performance of the duties or tasks of the employee's job position, including symptoms of the employee's speech, physical dexterity, agility, coordination, demeanor, irrational or unusual behavior, negligence or carelessness in operating equipment or machinery, disregard for the safety of the employee or others, or involvement in an accident that results in serious damage to equipment or property, disruption of a production or manufacturing process, or carelessness that results in any injury to the employee or others."
     Except in cases of more extreme behavior, this language falls primarily into the realm of a managerial judgment call.  What, for example, constitutes irrational behavior?
Furthermore, an employee's specific job description would have to play a major part in determining a level of impairment. While it is quite clear that absolute sobriety is a minimum requirement for a heavy equipment operator, who is to say at what level a sales person's performance would be damaged by mind altering substances? Interestingly, while commercial drivers are prohibited from registering in the medical marijuana pilot program, there is no program ban for construction workers and contractors. The heavy lifting will still be left to the employer.
So while the employer is not prohibited from enforcing Zero Tolerance policies for a drug free workplace, the Act may also provide a legitimate justification for a positive THC test. In a hypothetical scenario in which two employees test positive for marijuana use, but one is registered in the pilot program and the other is not, it would be far more difficult to terminate the employee with the legal prescription even if the manager suspected impairment.
The situation is similar in some ways to the insidious epidemic of prescription drug abuse that plagues the nation and its workplaces. While the prescription drug problem is one of society's elephants in the room, there is little discussion of the issue because pharmaceuticals have been legalized by the industry. Marijuana will need to overcome its notoriety before it is treated routinely as a medical product. How recently does a prescription pain killer need to be ingested in order for it to qualify as drug abuse in the workplace? For that matter, how long does a hangover affect one's ability to operate a fork lift?
While to some degree it is an extension of an existing scenario, the Compassionate Use of Medical Cannabis Pilot Program Act will add a new dimension to the challenge of policing substance abuse in the workplace. In lieu of the desirable but elusive application of common sense and fairness, the Act will likely convince employers to reassess their drug policies and the applicable sections in employee handbooks to ensure compliance.
Click on the link for the full text of the Compassionate Use of Medical Cannabis Pilot Program Act (410 ILCS 130).