We all get them … and we get them all the time … and we are all tired of them … and we all cuss them out!
Many of those calls are illegal.   Some of the robocalls you may have agreed to receive when you signed up for certain services – like those reminders that your prescription needs to be refilled – and those are legal.  But the automated, unsolicited calls coming from other countries are finally getting some attention from the federal government.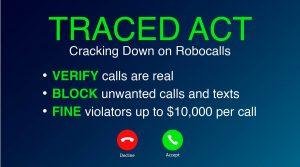 The dead heads in the House and Senate have finally agreed on something and adopted the Telephone Robocall Abuse Criminal Enforcement and Deterrence Act ("TRACED Act") at the end of 2019 and it was signed into law at the end of 2019.  The TRACED Act's stated purpose is to limit the increasing number of illegal robocalls and other violations of the telemarketing laws.  The Act also gives the FCC more powers to punish violators under the Telephone Consumer Protection Act ("TCPA") and to seek out violators in foreign countries.
These robocalls have increased due to the growing industry of "spoofing" technology.  According to a Twitter post from Senator Chuck Schumer, "Americans were battered by 48 billion robocalls last year (2019)"
Some of those calls are spoofs, an example of which are those fake calls from the "IRS" asking you to pay your back taxes with a Target gift card.  These fraudsters use advanced technology to help deceive people.
"Spoofing" is when you get a call from someone to pretends to be another person and the caller ID shows them to be that other person.  (See: https://www.fcc.gov/consumers/guides/spoofing-and-caller-id)
Below are several key provisions of the TRACED Act likely to be impactful in curbing improper robocall activity:
The FCC must adopt rules protecting consumers from calls or texts from a false number.
The FCC must adopt rules that will allow cell phone services to block calls from numbers that have been established as false thru a call authentication framework.
Cell phone service providers are required to develop call authentication technologies to help prevent illegal robocalls.
The fines for violations have increased and violators can be assessed a penalty of up to $10,000 per call.
The TRACED Act gives the FCC new powers to require call identity validation and cut down on spoofed calls.
But there is no relief in sight for business owners who have been facing frivolous lawsuits since the FAA gave anyone the right sue anyone for every cell phone call made without consent under the Commission's 2015 TCPA Omnibus ruling. That ruling expanded the reach of the TCPA to regulate virtually any software-enabled dialing device, made the essential express consent defense as fragile as a bubble, and saddled callers with the risk of calling wrong numbers even when a number changed hands without their knowledge.
As a result the courts were bombarded with frivolous lawsuits filed against any business or person who used "predictive dialers"– which is modern dialing equipment used by legitimate businesses that accurately dials numbers and connects calls with customer service agents– became subject to the statute.  But the real culprits – the robocallers – were not being sued!  Legitimate businesses were being sued and faced liability of $500 per call.
Recently, a federal judge in Washington D.C. gave some glimmer of hope to business owners who have been bombarded with these lawsuits.  In the case of ACA Int'l v. FCC, No. 15-1211, Doc. No. 1722606 (D.C. Cir. Mar. 16, 2018), the federal court issued an opinion that the FCC's 2015 TCPA Omnibus ruling which opened the gate for private lawsuits to virtually any software-enabled dialing device that the law was too broadly applied.  This won't eliminate the suits, but it's the first step in correcting this hole in the laws.  This is still a real problem for business owners that will have to be remedied soon because one of the the purposes of the TRACED Act is to change the law so that the FCC goes after the real violators.
The TRACED Act won't stop spoofing and robocalls, but it should give those individuals some concerns with engaging in illegal robocalling activity.   And it should give consumers some relief from those nagging robocalls … and some relief to American business owners.