We all get them … and we get them all the time … and we are all tired of them … and we all cuss them out!
Many of those calls are illegal.   Some of the robocalls you may have agreed to receive when you signed up for certain services – like those reminders that your prescription needs to be refilled – and those are legal.  But the automated, unsolicited calls coming from other countries are finally getting some attention from the federal government.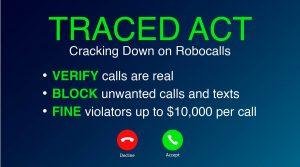 The dead heads in the House and Senate have finally agreed on something and adopted the Telephone Robocall Abuse Criminal Enforcement and Deterrence Act ("TRACED Act") at the end of 2019 and it was signed into law at the end of 2019.  The TRACED Act's stated purpose is to limit the increasing number of illegal robocalls and other violations of the telemarketing laws.  The Act also gives the FCC more powers to punish violators under the Telephone Consumer Protection Act ("TCPA") and to seek out violators in foreign countries.