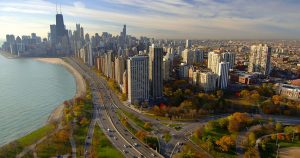 Blockchain and Chicago Businesses
In September of 2015, the Global Agenda Council on the Future of Software and Society's World Economic Forum[1] predicted that by 2025, 10% of GDP will be stored on blockchains or blockchain related technology.  If you are a Chicago business owner and you are unsure what that means or how it might affect your company, you want to speak to a Chicago business attorney as soon as possible to learn all that you can about this rapidly growing technology.
What Is Blockchain Technology?
In 2008, a white paper titled "Bitcoin[2]: A Peer-to-Peer Electronic Cash System" was released by way of the Cryptography Mailing List explaining the first bitcoin protocol; the use of an electronic coin passed using a chain of digital signatures.  The author, listed as Satoshi Nakamoto, argued for the transfer of electronic cash by way of online payments sent from one person to another without the need to go through a financial institution.  It was not until eight years later that the author/inventor was identified as Australian entrepreneur Craig Wright[3].
The technology behind Bitcoin, known as Blockchain, is the ledger system on which Bitcoin and other cryptocurrencies are built.  Investopedia[4] describes blockchain as a "public ledger of all Bitcon transactions that have ever been executed" and describes a block as "the current part of a blockchain which records some or all of the recent transactions."  Once completed, a blockchain goes into the permanent database in a linear, chronological order.  
As Blockchain technology continues to evolve apart from Bitcoin, Fortune 500 companies and other industries are beginning to announce services based on blockchain technology.  A Chicago small business attorney can review the types of businesses accessing blockchain technology and the ways that this innovative technology can be applied to your own business including:
IBM: In 2016, IBM[5] released a framework and new services for running blockchain securely in the cloud.
Microsoft: Microsoft partnered with R3, a consortium of more than 40 banks involved in distributed leger technologies in April of 2016.  In May, they jointed the Chamber of Digital Commerce, the world's largest trade association representing the digital asset and blockchain industry.
Philips: Philips launched a blockchain healthcare lab and blockchain healthcare network allowing IT experts, healthcare professionals, and blockchain developers to work together to research and explore the potential of healthcare uses.
How Is Blockchain Changing Business?
Under the current system, business networks maintain their own ledgers to record transactions using a swap of data files.  If you are a small business owner in or around Chicago, you likely understand this process very well.  Unfortunately, it is a process that is ineffective, expensive and oftentimes leaves the company vulnerable to a security breach. Blockchain creates a potential for business networks to share a record system thereby reducing costs and increasing efficiency.
Financial Institutions: More financial institutions are considering ways that blockchain will prove useful to their businesses and their customers.  On November 25, 2016, Forbes[6] announced that banks involved in a blockchain consortium have indicated a willingness to invest 59 million in the New York startup, R3.  Currently, thousands of banks worldwide use separately maintained databases.  With blockchain, there is the possibility of a universal, cost efficient system.
Trade Finance: Blockchain creates the possibility of automating trade finance including letters of credit and bills of lading.  In September 2016, Barclays[7] confirmed that agriculture co-operative, Ornua, and food product distributor, Seychelles Trade Company, had used a blockchain platform to transfer trade documents.  A Chicago business lawyer can review your business model and develop creative solutions to implement blockchain for your company.
Governmental Usages: The Office of the Inspector General of the United States Postal Service[8] issued a report regarding blockchain on May 23, 2016.  The report provides that blockchain technology could allow the postal service to improve operations and expand services including:

Financial services
Device management
Supply chain management
Identity services
Medical Marijuana: The legal cannabis industry is one of several industries looking to embrace blockchain technology[9].  Although twenty-six states and the District of Columbia allow some form of medical marijuana[10], those in the legal marijuana industry are still not able to function as a more traditional business model in areas such as banking.  As reported in JD Supra Business Advisor, blockchain technology allows those in the medical cannabis industry to use a digital ledger for finance, regulatory compliance, map and sequence of different strains of cannabis as well as authenticating needed for dispersing the product.
Healthcare: One of the biggest concerns in the healthcare industry is the security of confidential healthcare information.  Blockchain technology allows healthcare businesses to determine when there has been a breach in data security.  Others have suggested that blockchain technology will be instrumental in reducing Medicare fraud at a time when the Centers for Medicare and Medicaid Services reports that 60 million is lost annually to fraud, waste, and improper payments.
Blockchain and Chicago Small Businesses
Blockchain technology has the potential to revolutionize small businesses including:
supply chain finance
receivables finance
approved payables finance
invoice finance
securely recording customer payments
authenticating transactions
It is important to explore this cutting edge technology and to develop creative applications that will assist your business and your bottom line.  Analogous to early computer coding from the 1990's, blockchain technology is likely going to change the ways that businesses interact with one another and with their clients.
Contact an Experienced Chicago Business Lawyer
The experienced team of Chicago business lawyers at Bellas & Wachowski – Attorneys at Law can explain the benefits and pitfalls of blockchain technology and the manner in which it can improve your business model. Call our team of Chicago business lawyers today for a consultation at 847.823.9032 or use our online contact form.
References
[1] Global Agenda Council on the Future of Software and Society
[2] Bitcoin: A Peer-to-Peer Electronic Cash System
[3] BBC News
[4] Investopedia
[5] IBM blockchain
[6] Forbes
[7] Barclays reports transfer of trade documents
[8] Office of Inspector General of the U.S. Postal Service
[10] Medical marijuana