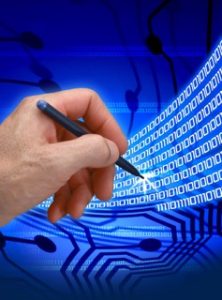 Are Digital Contracts Legal?
If you are a Chicago business owner who is over the age of thirty, you remember the days of paper contracts that were typed and then snail mailed before they were revised, retyped and then mailed again.  Once the final terms were agreed upon, the parties signed the original paper document, sometimes by coming together to sign and have signatures authenticated by a notary.
While written contracts were not necessary or even preferred in every business situation, the days of paper contracts for most types of transactions are fading into the Illinois sunset.  In the digital era, electronic contracts with electronic signatures are the norm except in those areas that the statute of frauds[1] requires in writing such as a transfer of land, a Will or a contract where performance cannot be completed in one year. If your small business is not using electronic contracts and signatures on a daily or weekly basis, you may want to consider consulting with a Chicago business lawyer who is familiar with the laws and regulations affecting electronic records and signatures and can confirm that your company is in full compliance.