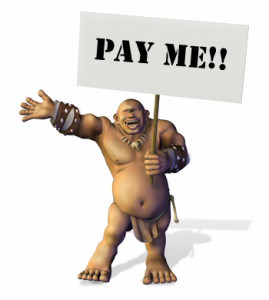 It's almost never a compliment when someone is referred to as a troll, but in the case of patent extortionists, it is an accurate and richly deserved description. Patent trolls are technically called  "non-practicing entities" (NPE) or Patent Assertion Entities (PAEs), but these euphemisms provide only a dim definition of what they are all about. And they pose a unique challenge to small business owners.
Whatever you call them, they all have a common business model: they purchase patent rights with the intention of generating fees through sketchy lawsuits or the threat thereof.  The patents themselves are generally obscure, shaky or acquired from bankruptcy.  Virtually none of them have ever been deployed legitimately in the marketplace, but that is not the intention of the trollsters. Rather, these organizations exist to exploit weaknesses in the U.S. Patent Office and legal system to generate bogus licensing revenue from legitimate businesses.
Generally, patent trolls have no assets other than the patents they intend to "protect." They manufacture nothing and render no services. Many of the acquired patents were granted due to the Patent and Trademark Office's systemic failure to keep up with a rapidly changing world over the past 30 years.  Quite simply, the federal agency has lacked the resources to determine what is really an "invention" in the context of the onslaught of digital technology.  In particular, the class of business method patents that arose that have arisen since 1998 has proven to be a thorn in the side of honest commerce.