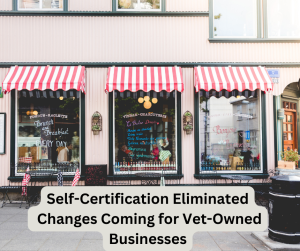 Self-certification for veteran-owned and service-disabled veteran-owned small businesses is being eliminated, and a number of other changes went into effect on January 1 as a result of an updated Final Rule from the Small Business Administration (SBA) about these types of awards, details of which will be posted in a new section of the SBA's regulations.
Until now, only contractors seeking status as either a Veteran-Owned Small Business (VOSB) or Service-Disabled Veteran-Owned Small Businesses (SDVOSB)—defined as 51% or more owned and controlled by a veteran or service-disabled veteran, respectively—competing through the VA's Veterans First Contracting Program have been required to petition the VA's Center for Verification and Evaluation to attain qualified status.  Going forward, however, self-certification will only be an option for those seeking subcontracts and for goaling purposes.
The updated Final Rule also expands certification eligibility for these classes of small businesses, eliminating the requirement that firms be labeled as "small" in their primary North American Industry Classification System (NAICS) code. After January 1, contractors considered small under any NAICS code listed in its System for Award Management (SAM) profile—not just the primary code—will be considered qualified.
VOSBs and SDVOSBs that have been certified or re-certified within the past three years retain their previously granted eligibility until the expiration date; despite the changes in the rule, they need not reapply until that date comes. And the SBA can, at its discretion, extend that prior eligibility for up to one year, if the reapplication date hits during calendar year 2023.
Those wishing to apply or reapply early in 2023 (or whenever their current expiration hits) must submit the appropriate applications and documents on SBA's website, showing that the small businesses is owned and controlled by one or more qualifying veterans or service-disabled veterans. The website will provide additional details on this, and SBA has a Frequently Asked Questions page that will offer any updates.
Once an application is submitted, the small businesses should receive a message verifying receipt and containing an estimate on likely processing time. SBA sometimes will request additional documents and information, as well as clarification of those previously submitted, so applicants would do well to stay abreast of the process. VOSBs and SDVOSBs also must keep SBA abreast of altered circumstances that could affect their eligibility during the process, including changes in ownership, control or size of the business.
A few other provisions worth noting:
Veteran-owned small businesses that participate in either the 8(a) Business Development Program or the Women-Owned or Economically Disadvantaged Women-Owned Small Business programs can use documentation from the most recent annual reviews related to those eligibilities to seek VOSB or SDVOSB status, as long as they certify no changes in ownership and control have taken place in the interim.
To facilitate the transfer of certification responsibilities from the VA to the SBA, the latter is implementing a one-year grace period (ending December 31, 2023) during which veteran-owned small businesses may continue to self-certify for sole source or set-aside contracts outside the VA, until SBA makes a determination about the entity's application.
When veteran-owned small businesses that enter into joint ventures with one or more other small businesses, their partner(s) need not be certified as a VOSB or SDVOSB.
Entities must continue to seek recertification every three years, within 120 calendar days before the end of their eligibility period, and there is no limit to the number of times they may do so.
Every veteran owned business should be aware of these options for financing assistance thru the SBA and try to take advantage of the program.