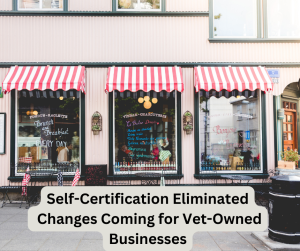 Self-certification for veteran-owned and service-disabled veteran-owned small businesses is being eliminated, and a number of other changes went into effect on January 1 as a result of an updated Final Rule from the Small Business Administration (SBA) about these types of awards, details of which will be posted in a new section of the SBA's regulations.
Until now, only contractors seeking status as either a Veteran-Owned Small Business (VOSB) or Service-Disabled Veteran-Owned Small Businesses (SDVOSB)—defined as 51% or more owned and controlled by a veteran or service-disabled veteran, respectively—competing through the VA's Veterans First Contracting Program have been required to petition the VA's Center for Verification and Evaluation to attain qualified status.  Going forward, however, self-certification will only be an option for those seeking subcontracts and for goaling purposes.
The updated Final Rule also expands certification eligibility for these classes of small businesses, eliminating the requirement that firms be labeled as "small" in their primary North American Industry Classification System (NAICS) code. After January 1, contractors considered small under any NAICS code listed in its System for Award Management (SAM) profile—not just the primary code—will be considered qualified.